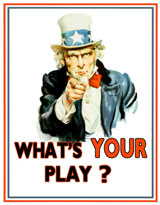 I've got a tough one for you this week. This is one of the trickier spots I've been in of late, and I'll tell you up front that I'm not 100% sure about my play or my plan at multiple points in the hand. So with that said, we'll zero in on the river decision, but I'm very open to questions and criticism about earlier streets.
We're on the last few hands of Day 1 of the Venetian $5K Main Event (which is nowhere near the money – about 50% of the field remains). Villain seems very good. He's been appropriately active, which is to say not so aggressive as to assume he's on any two when he opens the button but certainly opening a wide range. He seems thoughtful and capable of considering all of his options and thinking on a high level.
Hero's image is probably similar, meaning that I'm not auto 3-betting late position opens but he's also not going to expect me to have a hand that can call a shove every time. Neither of us has played much post-flop since I've been at the table, so any post-flop reads will be extrapolations from the above.
Blinds 250/500/50. Action folds to Villain on the Button, who opens to 1100 with about 2oK behind. Hero 3-bets to 3000 from the SB with 88 about 45K behind. My intention is to shove or call to a 4-bet if Villain shoves, though I won't be too thrilled about it. I think that's better than the alternatives, though. BB folds, Button calls.
Flop (7200) Jd 7s 3c. Hero bets 3500, Villain calls. My plan again is to call a shove or shove over a raise.
Turn (14200) 4c. Hero checks, Villain checks. Plan here is to check-raise all-in or call a shove.
River (14200) 2d.
Villain has roughly a pot-sized bet remaining. What's your plan and why? If you bet, how much and what's your plan if raised? If you check, what's your plan for a bet that could be as large as the pot?
Post your thoughts, comments, questions, etc. here and I'll do my best to answer them throughout the week. As I said, I'm happy to talk about spots other than the river as well. I'll post results and my own thinking on Friday – hopefully by then you all will have changed my mind and I'll have a better idea of what I should have done here!
Any views or opinions expressed in this blog are solely those of the author and do not necessarily represent those of the ownership or management of CardPlayer.com.