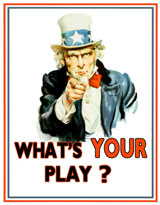 The Game: $1/$3/$6 no-limit hold 'em. Plays loose-passive pre-flop but gets progressively more tight-passive as pots get larger.
Villain 1 ($1800): Best of the regulars in this Hero's opinion. He's 30ish, seems comfortable playing 200+ BB pots when it's warranted, capable of bluffing, calling down, and folding in spots most others in the game wouldn't think twice about. Suspects (rightly) that I gun for him sometimes because he's also capable of folds that others are not.
Hero ($2300): Perceived as recklessly, annoyingly aggressive by the game at large, less so by the Villains in this hand. I think they at least understand why I play the way I do and don't resent that I raise so much, etc.
Villain 2 ($383): Mid-60s, generally very tight but was caught earlier in the evening in a good-sized bluff. Believes strongly in protecting his big pairs, getting people to fold their draws, etc. I try not to talk about poker or my own background at the table, have never mentioned internet poker, etc. but this guy is always trying to ask me about it.
Pre-Flop: Three players limp, Villain 1 completes for $5 from SB, Hero completes $3 with 6s 5c, Villain 2 checks.
Flop ($27 in pot): 2d 3d 4c Villain 1 bets $20, Hero raises to $70, Villain 2 practically beats me into the pot with a cold call. The limpers all fold, and Villain 1 calls without any deliberation.
Turn ($235 in pot): 2d 3d 4c 4h Villain 1 checks, Hero???
What's your play now and why? If you bet, what's your plan if one or both players raise? If you check, what's your plan if Villain 2 bets (be sure to consider scenarios where Villain 1 folds and where he does not)? Don't worry too much about planning for the river, I think there are too many possibilities to delve much into that conversation.
I'll post results and my own thoughts on Friday.
Any views or opinions expressed in this blog are solely those of the author and do not necessarily represent those of the ownership or management of CardPlayer.com.