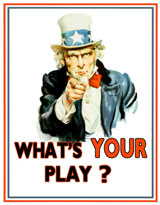 Live $10/$25 NLHE cash game at the PCA, playing seven-handed at the moment. I haven't been involved in many pots but may have an aggro image anyway because of a hand that went to showdown where I raised K6s, bet a backdoor flush draw on the flop, barreled a turned flush draw, and shoved a rivered flush.
Villain seems youngish and decentish but not a prodigy. We've been playing together less than an hour, so that's not a strong read, but the sense I get is that he's more of a live pro than an internet guy dabbling in live poker.
Effective stacks are $6000. The weakest, loosest player at the table is in the big blind. Villain opens to $75 in middle position, and I 3-bet to $225 on the button with Kh 2h. This isn't exactly a standard 3-bet, but a lot of things favor it: we're deep, I have position, and his raise size suggests he is trying to play a pot in position against the big blind moreso than build a pot with a really good hand, because that player was prone to overdefending his blind and would often be willing to call a larger raise.
Anyway, action quickly folds back to Villain who calls without much thought.
Flop comes Th 5h 3h. He checks, I bet $350, and he calls.
Turn Qs. Villain checks and calls $750.
River 7h. Villain checks. There's now $2485 in the pot and $4675 in the effective stacks.
What's your play and why? Leave your thoughts, questions, and comments below. I'll respond as able and be back on Friday with the results.
You can assume in cases where I don't give information about his timing and demeanor that I detected nothing noteworthy about them one way or another.
Any views or opinions expressed in this blog are solely those of the author and do not necessarily represent those of the ownership or management of CardPlayer.com.