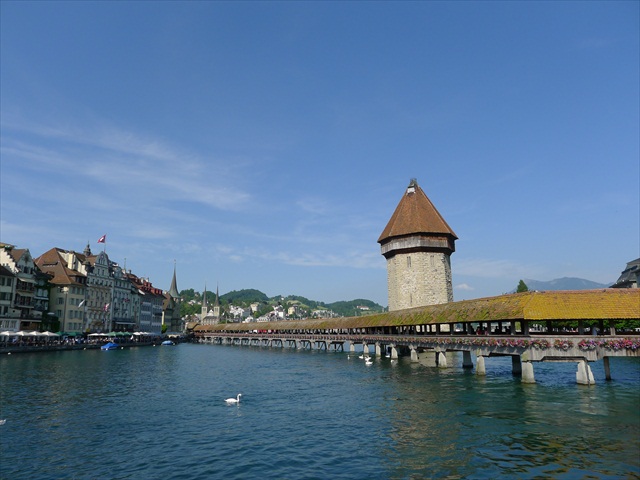 Nate and my recent conversation with Gareth Chantler inspired me to continue chronicling here my travels in Europe earlier this year. When last we left off, Emily and I were in Paris. Our next destination was Munich, but I think we both liked that the least of all the places we visited, so I'm just going to skip past it and move on to the Swiss city of Lucerne.
Because she enjoys cities less than I do, Emily was really looking forward to our time in Switzerland. We'd soon be spending ten days in a chalet overlooking the Lauterbrunnen Valley, but first I wanted to meet a friend in Lucerne. Nam, who arrived in Swizterland as a young boy fleeing the war in Vietnam, is one of my more interesting coaching students. When he heard that we'd be coming to his country, he was eager to show us around, and I was eager to meet him.
It was raining on the evening that we arrived in Lucerne, which as a popular vacation/tourist destination is one of the most expensive cities in one of the most expensive countries in the world. The cheapest hotel we could find was well over 100 euros per night. We waited several minutes to check in as an Indian man, oblivious to the clerk's increasing annoyance with him, peppered her with questions about where to go and what to do in Lucerne. His expectations didn't seem that unreasonable to me, and I wasn't sure whether there was an element of racism at play in the clerk's reaction to him or if he was just demanding more service than this budget hotel typically provided.
We later learned that almost everyone staying at this hotel was Indian. The restaurant we ate at that night was also Indian and one of the more reasonably priced ones in the city, part of a European chain aiming to provide authentic cuisine for Indian travelers. We soon realized that we could find some of the best deals in Switzerland by following the Indian tourists, who for whatever reason seemed to be more budget conscious than the European, Chinese, and Japanese vacationers.
When we returned from dinner, I again had to wait at the front desk. This time I was trying to purchase a power adapter (Switzerland doesn't use the same plugs as most of Europe) while two Indian men were giving the clerk, who was also Indian, a hard time in heavily accented English about the hold that the hotel was going to put on their debit card, which is of course very standard. The two guests were presumably complaining about the clerk to each other in Hindi when he interrupted them, also in Hindi, presumably to tell them that he understood everything they were saying.
"Oh you speak Hindi?!" one of the men explained and started speaking to him very rapidly.
The clerk cut him off sternly. "We will converse in English."
"Why? You speak Hindi!" the man demanded.
"I speak everything: Hindi, Murathi, Punjabi…. But we will speak in English."
"Why?"
"Look around here! Everyone in this hotel is Indian. If they hear I am speaking Hindi, they will pester me with questions, and I will get nothing done all night."
Nam
The previous night's clouds were gone, and it was a sunny and downright hot day in Lucerne. Emily wasn't feeling well, so I went by myself to meet Nam at our designated spot in front of the main train station. Nam knew what I looked like but I'd never seen a picture of him, and I didn't have a cell phone or other way for him to contact me. The appointed time came and went, and I stared down every Asian man I saw without success. He'd been so eager to show me around that I couldn't imagine him standing me up, but after an hour I began to worry.
Just as I was about to go look for a pay phone, a well-groomed Asian man wearing a t-shirt and blazer emerged from the station looking frantically left and right. I caught his eye, a flash of recognition passed between us, and then I shook his hand. "Good to meet you, Nam!"
"I'm so sorry Andrew! I just got a new Porsche convertible – I mean just got it yesterday – and I was so excited to drive you and Emily around in it. But the top is stuck in the down position and there would be nowhere for her to sit, so when I couldn't fix that, I had to get my other Porsche, it's not a convertible."
Guess that's what I get for not warning him that Emily wouldn't be joining us. As you might guess from the multiple Porsches, Nam's come a long way since arriving in Switzerland a penniless refugee. As we walked (it was too nice a day to get straight into a car), he told me about himself, his adopted country, and the city of Lucerne.
Around Lucerne
I've been to places with cooler buildings, and I've been to places of greater natural beauty, but I've never been anywhere the scored so highly on both counts. The city of Lucerne has stood on the bank of Lake Lucerne straddling the Reuss River for nearly 1000 years. Its oldest buildings exhibit the famous half-timbered architectural style, and on a clear day you can see the Swiss Alps looming on the horizon beyond the lake.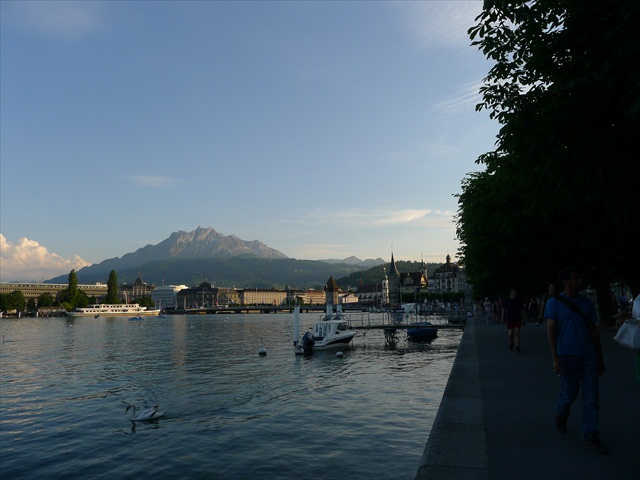 Nam and I walked through the old part of the city and then up a hill to the stone walls, built in the 14th century, that still surround the city. Several of the wall's towers are open to the public, so we were able to climb to the top for some awesome bird's eye views.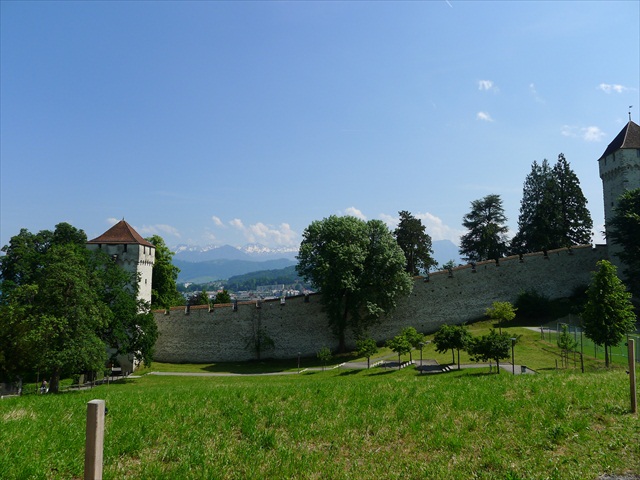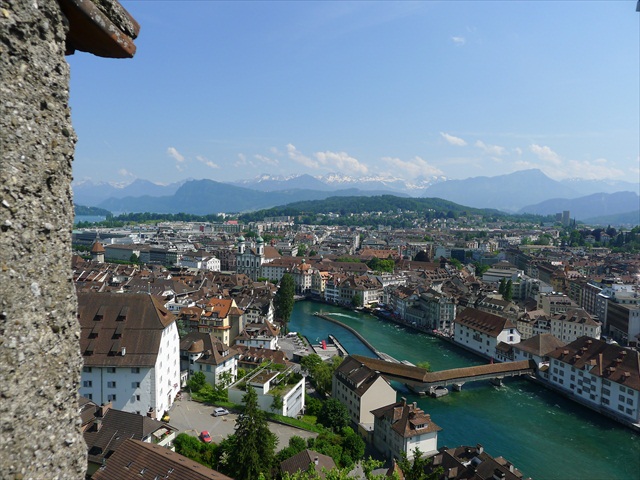 Exhausted and thirsty from walking and climbing in the hot sun, we sat in a cafe in the Altstadt (Old City) where Nam treated me to a bottle of Rivella, a surprisingly refreshing Swiss beverage made from milk serum and flavored with apple juice.
He also told me more about Switzerland. It was clearly that he was extremely proud of his country and happy to be a Swiss citizen. That's not too surprising considering how much success he's had there, but it was still refreshing to hear someone who believed that his country was on the right track. It's certainly not a sentiment you hear too often in the US, but even in other parts of Europe (the French are of course world-class complainers) the general sentiment was dissatisfaction with the government and concern about the direction of the country. Nam, on the other hand, spoke proudly about the country's great wealth, low unemployment, and highly educated population, though he demurred when I asked how much of that wealth was built on helping citizens of other countries shield themselves from taxation.
After our drink we walked along the shore of the lake for a bit, ate dinner, and then met up with Emily. He took us for a quick spin in the Porsche and then we saw the city by night, with the famous Kapellbrücke illuminated and reflected in the river it spans.
Finally he showed us the Löwendenkmal, a memorial to Swiss Guards killed during the French revolution that Mark Twain called, "the most mournful and moving piece of stone in the world." The carving of a lion is the tourist hub of Lucerne, so it was good that we came at night. Though it was a little harder to see, the dark and quiet made for a more fitting atmosphere than a gaggle of bus tourists would have.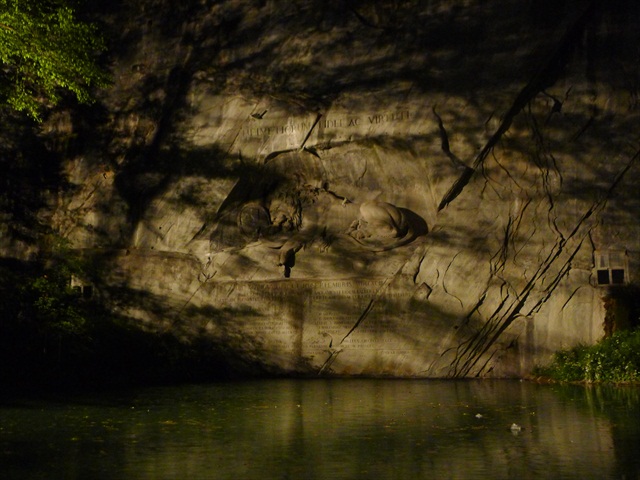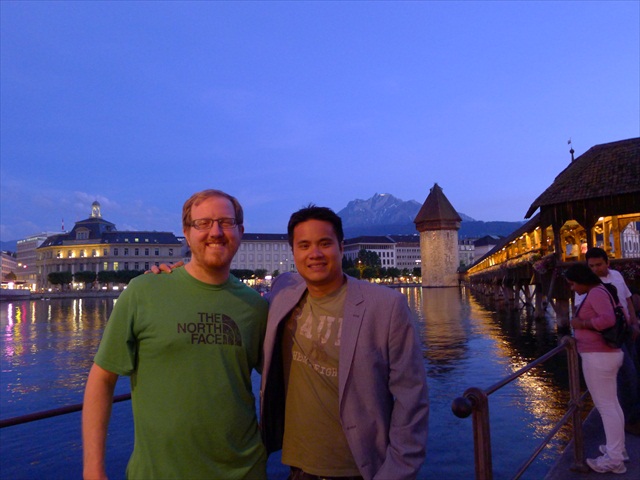 Any views or opinions expressed in this blog are solely those of the author and do not necessarily represent those of the ownership or management of CardPlayer.com.