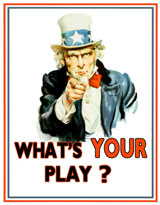 PokerStars – $2000+$100|30/60 NL – Holdem – 9 players
Hand converted by PokerTracker 4: http://www.pokertracker.com
BB: 9,290.00
UTG: 9,903.00
UTG+1: 11,228.00
Hero (UTG+2): 10,517.00
MP: 7,131.00
MP+1: 11,411.00
CO: 14,790.00
BTN: 6,490.00
SB: 9,240.00
SB posts SB 30.00, BB posts BB 60.00
Pre Flop: (pot: 90.00) Hero has Qh Qs
UTG raises to 120.00, fold, Hero raises to 360.00, fold, fold, fold, fold, fold, fold, UTG calls 240.00
Flop: (810.00, 2 players) 8h Qc 7s
UTG checks, Hero?
Pretty good flop

. Now what's your play and why? If you want to bet, be sure to specify your bet size and what you hope that bet will accomplish. In other words, what are you trying to represent? What hands are you hoping will call or raise?
Post your thoughts, questions, and suggestions in the Comments section, and I'll be back with my own thoughts as well as the next decision point on Tuesday.
Any views or opinions expressed in this blog are solely those of the author and do not necessarily represent those of the ownership or management of CardPlayer.com.