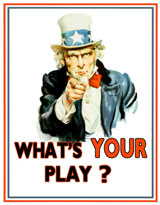 After the popularity of the What's Your Play? Street-by-Street in the WSOP Main Event edition, I've been on the look-out for another hand to present in the same way. In one of the first SCOOP events last Sunday, the $2100 SCOOP-2-H, I believe I found a good one.
I'm the Hero. Villain is a regular in the mid- to high-stakes 6-handed NLHE games on PokerStars. We've played together a fair bit, though I couldn't tell you what he thinks of me. He's active in those games, playing something like 25/22 with a 70% Fold to 3-Bet and 20% 4-Bet. Of course it's open to interpretation how that would translate to the early stages of a 9-handed tournament. Overall he's a smart player and good hand reader and almost certainly a winner in those rather tough games.
It's still very early in the tournament, and neither of us has done anything too significant. The table isn't soft, but it's probably par for the course in an online $2K.
PokerStars – $2000+$100|30/60 NL – Holdem – 9 players
Hand converted by PokerTracker 4: http://www.pokertracker.com
BB: 9,290.00
UTG: 9,903.00
UTG+1: 11,228.00
Hero (UTG+2): 10,517.00
MP: 7,131.00
MP+1: 11,411.00
CO: 14,790.00
BTN: 6,490.00
SB: 9,240.00
SB posts SB 30.00, BB posts BB 60.00
Pre Flop: (pot: 90.00) Hero has Qh Qs
UTG raises to 120.00, fold, Hero ?
What's your play and why? I'm going to accelerate the timeline on this a bit so that it doesn't take a month to get through it. So post your thoughts, comments, and questions here, and I'll plan to post my own thoughts along with the full pre-flop action on Thursday.
Any views or opinions expressed in this blog are solely those of the author and do not necessarily represent those of the ownership or management of CardPlayer.com.