As "The Poker Philosopher", and in honor of one of my favorite non-poker blogs, I occasionally consider the ethical dimensions of a high-profile controversy in the poker community. Today, I consider the WSOP Ladies' Event, which began yesterday and is scheduled to conclude tomorrow. Older editions of The Poker Ethicist are available in the archives.
Once again this year, a handful of men have entered the WSOP Ladies' Event, citing a belief that a women-only event is discriminatory and a Nevada Gaming Commission policy that prevents the WSOP from actually excluding, rather than just discouraging, male players. Critics of these men say that they are only playing because they expect the field to be softer (no pun intended) than open events of comparable buy-in.
Do these men have a case for discrimination? Is it ethical for the WSOP to offer an event that excludes (or at least attempts to exclude) players based on their gender?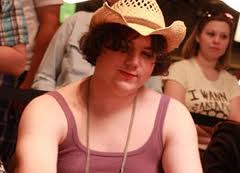 Shaun Deeb in the 2010
WSOP
Ladies' Event
It is. This event serves not to exclude but to include.
Segregation is reprehensible when it carries with it a "badge of inferiority" or assigns privileges and opportunities to people based on factors beyond their control. This is not the case here, where men have 50 other WSOP events, including numerous other $1000 buy-in events, to play. Significantly, every single one of these is a male-dominated affair. Any male player would be hard-pressed to demonstrate how the existence of a single Ladies' Event harms him personally. The purpose of this tournament is not to push men away from the game but to draw women in.
Historically, only about 3% of players in the main event have been women. Walk into any poker room at any hour of the day and it's easy to see that women are in the distinct minority. There may be reasons why poker is intrinsically more appealing to men than to women, but surely it is not thirty times more appealing. There must be other reasons for women's underrepresentation at the poker tables.
Granted, as a man, I am not the best spokesperson for this cause, and it is not my intent to speak for female players or to claim that my observations are perfectly consistent with their experiences. In my experience, though, a female poker player is virtually guaranteed to get comments at the table. These range from relatively innocuous banter ("That's a big raise for a little lady") to outright sexual harassment. Casinos may be empowered to stop the worst of it, though they generally don't, but on the whole there seems to be no avoiding the fact that a female poker player must deal with comments and attention directed at her because of her gender.
Granted, needling and table talk can be part of the game. I don't mean to argue that women are necessarily entitled to a poker game free of such talk or that males who "fold to the pretty lady" ought to be penalized in anyway. I do think, however, that a desire to avoid such situations keeps many women from playing live poker, and that's an unfortunate outcome.
Having more women playing poker is valuable in a number of ways. For one, it's generally good for the game when more people, whoever they are, play. There are a wider selection of games available and more money in the poker economy. Women represent a tremendous, largely untapped market into which the game could expand. This is a worthy goal for the WSOP to pursue, and if they believe that a Ladies' Event will help them to accomplish it, then they are justified in hosting such an event.
Second, appealing to a broader pool of players is a good thing. Our game is embattled in many parts of the world right now, and winning hearts and minds will require demonstrating that poker is a game with mass appeal, not an unhealthy fixation for criminals and degenerates. There's a reason that the Poker Players Alliance repeatedly chose Annie Duke to testify before Congress, and it's because as a mother of four she portrays a wholesome image.
the Ladies event is not bringing more women into the WSOP. If that were the case we would expect the % of women playing in open WSOP events to have grown over the years and that is just not the case. The % of women entering open WSOP events has remained pretty steady at 3 to 5% of the field
Over 1000 women played in the Ladies' Event last year. Of course some of these women probably would have played a different event has this one not been available, but many of them surely would not have played at all. Whether they go on to play open events in the future or not, they are still playing at a higher level and stepping up their involvement in the game. They may be more likely to host home games, to play at their local casinos, and to talk about and share the game with friends. When people learn that respectable folk like their friends and neighbors play poker, the stigma that the game still faces in some circles will be broken down.
Duke also asks,
"Why is there a Ladies Event if poker is measuring mental acumen? Are we saying there is a difference between the intellect of men and women that means that somehow we need a separate championship event just for the women? What is that really saying about how we view women in comparison to men on the mental playing field?"
To my knowledge, no one has said this. It's possible that the event had its origins in some patronizing thinking, but these days I'm not aware of any proponent who argues that women need their own tournament because of some mental deficit relative to their male counterparts. The Ladies' Event is a marketing tactic designed to draw women into the game, not to demean them or to marginalize male players in any way. If the argument is not that women can't compete with men but rather that many choose not to for reasons that have nothing to do with a perceived inferiority, then it makes no statement about the skills or capabilities of female players.
The World Series of Poker is about a lot more than crowning the best of the best these days. The WSOP is now the world's largest poker festival and the dream destination for millions of recreational players. The smaller buy-in tournaments are where amateurs get a chance to play for life-changing money and rub elbows with their heroes from TV. If a Ladies' Event can encourage more women to have these experiences, then that's good for the game and everyone who plays it.
Any views or opinions expressed in this blog are solely those of the author and do not necessarily represent those of the ownership or management of CardPlayer.com.