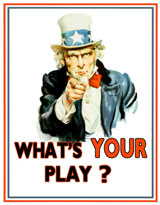 I haven't posted one of these in a while because participation in the last few was kind of lackluster. If you enjoy these sorts of posts, please comment on this one, even if you don't have anything to say about the hand, just so that I can gauge the level of interest in seeing more of these.
Game is $5/$10/$20 NLHE, I have $8K, Villain covers. His pre-flop calling range is like 40% of the deck, less the strongest 5% or so that he'd 3-bet. He knows I'm opening a lot of pots and that I don't give up easily, so he's understandably reluctant to give me credit for a hand.
I open to $60 with JTo in the HJ (I had two very tight players sitting to my immediate left so I was opening pretty wide). Button calls, Villain calls in SB, BB folds, straddle calls.
Flop ($240) Jd 3s 4h. Villain bets $125, I call, the rest fold.
Turn ($490) 4s. Villain bets $225, I call.
River ($940) Ad. Villain bets $325, Hero?
Post your thoughts, comments, questions, suggestions, etc. here, and I'll be back on Friday with results and my own thoughts.
Any views or opinions expressed in this blog are solely those of the author and do not necessarily represent those of the ownership or management of CardPlayer.com.