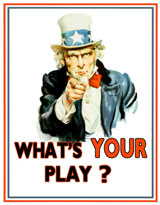 I'm just going to give the turn action and skip straight to the river. It's not entirely unworthy of debate, but I do think it's almost always correct to bet the turn.
Villain (UTG+1, 45K stack) is probably mid-30s, part native Hawaiian and part mountain – he's a big guy, is what I'm saying. I don't think he's a professional, but he did ask me earlier in the day if my last name was Brokos and told me that he enjoyed my articles.
It's level 3 of the WSOP Main Event. Blinds are 150/300 without an ante. Villain open limps. That's not unheard of for our table – maybe 5% of pots were open limped – nor for this Villain, though he's generally pretty tight aggressive and raises more often than he limps. UTG+2 limps, VMP2 limps, the button limps, and the SB completes.
Hero (60K stack) has Ac Kd in the BB and raises to 1800. Villain calls quickly, UTG+2 folds, MP2 thinks for a bit and then calls, and the others fold.
We're three to the flop with 6300 in the pot. Flop comes Ad Jd 8d, giving Hero top pair with top kicker and the nut flush draw. Hero checks, and others check behind.
Turn is the Qd. Hero bets 4000, Villain reaches for his chips when the action is on him, looks a little displeased, and then tosses his 4000 in. MP2 folds.
River is the Qc. There's 14,300 in the pot. What's your play and why? Remember that if you're betting you need a plan for a raise, and if you're checking you need a plan for a bet.
Post thoughts and comments here, and I'll be back with results on Friday.
Any views or opinions expressed in this blog are solely those of the author and do not necessarily represent those of the ownership or management of CardPlayer.com.