Liesse
We took a bus to the Keukenhoff with the intention of visiting the world-famous tulip garden. Before going in, however, we rented bikes intending to spend an hour or two riding around the nearby tulip fields, but we ended up enjoying the ride so much that we never got to the Keukenhoff. I've posted a lot of flower porn already, so I'll go light on it this time around, but understand that we have literally hundreds of pictures of brightly colored and neatly ordered rows of tulips.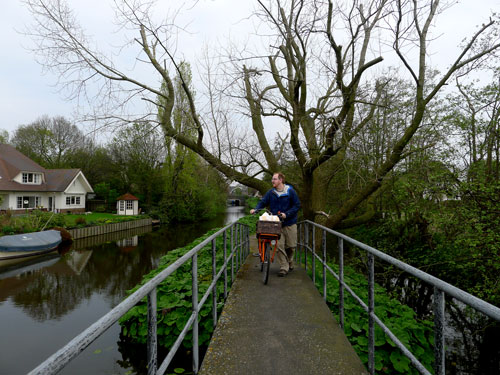 Muiderslot
I'll make no apologies for posting lots of castle porn. Muiderslot is a picture-perfect castle located just outside Amsterdam. There are buses that go out there, but thinking it would be neat to arrive by water, we took a ferry instead. It was a nice idea, but we almost couldn't find the boat. It seemed to be a new and young business run by two men, one of whom was piloting the ferry and the other of whom sold tickets. There were no signs at the nearby tram stop or in the harbor directing us to where the ferry was moored and only a small sign in the window of the boat identifying it as Muiderslot-bound. Not coincidentally, there were only two other people on the ferry with us.
Unlike Karlstejin, which is built into the side of a hill, Muiderslot is on perfectly flat land reclaimed from the surrounding swamp. It is therefore geometrically precise and very nearly symmetrical, a rectangle surrounded on all sides by a moat spanned by a single drawbridge.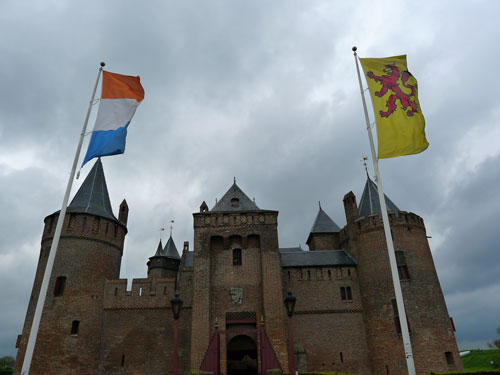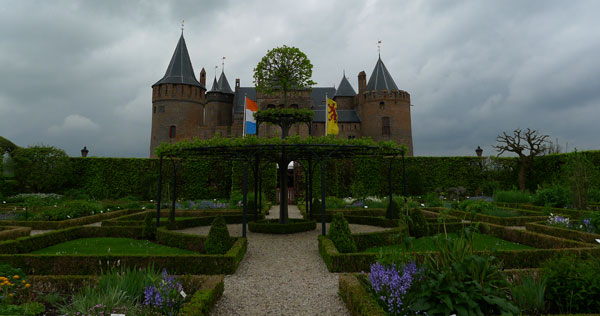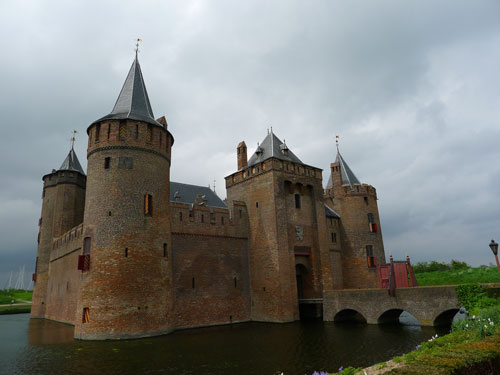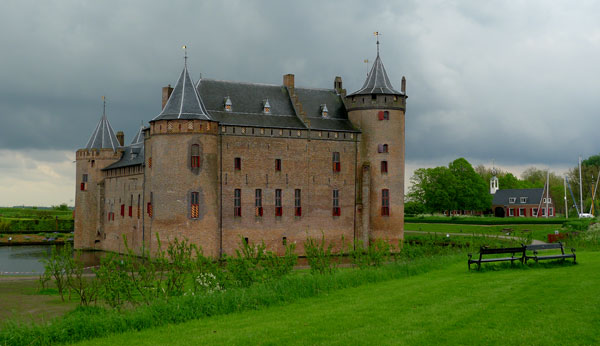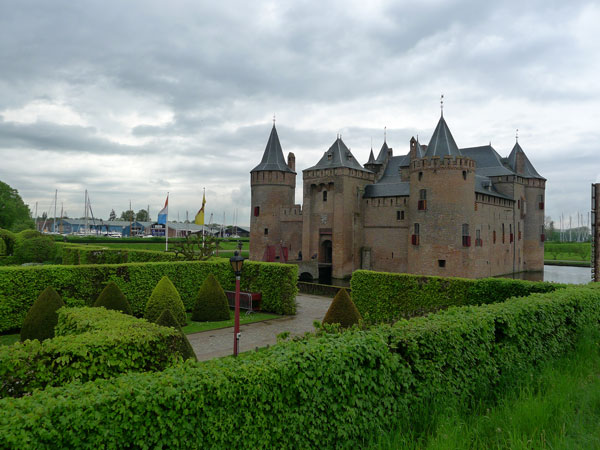 The only way to see parts of the interior was to join a tour, which was available only in Dutch. We went along despite speaking hardly a word and were glad we did, because the guide was an energetic older woman who spoke very good English and obliged us with translations of key details. Even more fun, though, was trying to understand her Dutch, which you almost could simply because she was so emphatic with her voice and animated with her gesturing. Nearly every other adult on the tour had children with them, which our guide explained thusly: "Most Dutch people visit Muiderslot three times in their lives: once on a school trip, once with their children, and once with their grandchildren."
The exhibits in the castle were geared for children, but they were so well done that there was plenty for adults to enjoy about it as well. And I mean really, what's not to like about wandering the halls, towers, and ramparts of a medeival castle?
Any views or opinions expressed in this blog are solely those of the author and do not necessarily represent those of the ownership or management of CardPlayer.com.