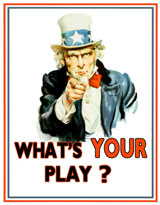 I would argue that an Ace is the worst possible turn card. In addition to giving Villain the lead if he held AA, it's a scare card to some portion of his range and also a card he expects to be scary to some portion of Hero's range. In other words, even if he has a hand like 77 or AQ, he can't expect us to bet many if any worse hands for value. So while Luisinho concludes that "his check on the turn either means weakness or what he thinks is trapping", I would add that it could also be a check for pot control/information.
This is why I prefer checking behind. The middle part of his range – the part we beat and that we can expect to pay off another bet – may well be threatened by a bet now but emboldened by a check to put one more bet into the pot. This is what Kelley calls a "deleveraged bet": any turn bet leaves open the possibility of a river shove, making it very difficult for him to check-call hands as strong as 77. Checking the turn enables gives him a chance to value bet or to check-call a less threatening bet on the river.
Nyy214 says that, "The only reason we would check this turn is to get a crying river call out of a mediocre hand". Unfortunately I think that's now the best we can hope for, as even hands like small sets are slipping into the mediocre hand category.
It's unfortunate not to get his stack, but I agree with Shawn that "Looking to get 3 streets doesn't seem possible now unless we're beat. It'll be hard for Villain to continue with much less than AQ in this spot." In fact I would go further and say that 77 may well be correct to fold to a turn bet. At the very least, I can't see Villain putting his whole stack in with 77. What would he be hoping to beat?
Jonny worries that, "If you check back the turn, having called a raise on the flop, it looks like you are taking a bluff-catching line -with either a medium strength or strong hand. So I don't think any of his pure bluffs are firing the river. For the same reason I don't think he can bluff catch river (- because your flop check-back range is plausibly quite strong on this board and given the action, and you could have bet your bluffs on the turn)."
This assumes that neither of us would bluff into a clearly defined medium-strength hand. In fact, you'll often see good players doing this to one another. I would actually be quite easy to play against if I never bluffed and never folded after checking the turn. Even if you can subtract the very bottom of both of our ranges, each of us is good enough to turn weaker made hands into bluffs, and I think each of us expects this of the other as well.
Results and River Action
PokerStars – $2000+$100|30/60 NL – Holdem – 9 players
Hand converted by PokerTracker 4: http://www.pokertracker.com
BB: 9,290.00
UTG: 9,903.00
UTG+1: 11,228.00
Hero (UTG+2): 10,517.00
MP: 7,131.00
MP+1: 11,411.00
CO: 14,790.00
BTN: 6,490.00
SB: 9,240.00
SB posts SB 30.00, BB posts BB 60.00
Pre Flop: (pot: 90.00) Hero has Qh Qs
UTG raises to 120.00, fold, Hero raises to 360.00, fold, fold, fold, fold, fold, fold, UTG calls 240.00
Flop: (810.00, 2 players) 8h Qc 7s
UTG checks, Hero bets 555.00, UTG raises to 1,560.00, Hero calls 1,005.00
Turn: (3930.00, 2 players) Ad
UTG checks, Hero checks
River: (3930.00, 2 players) 6c
UTG checks, Hero ?
I'll be in the Alps this week, probably with limited access, so I'm not exactly sure when I'll post my own thoughts. Just please try to leave your comments within the next few days, to ensure that you get them in before I post results, and I'll get those up whenever I find the time and internet to do it.
Any views or opinions expressed in this blog are solely those of the author and do not necessarily represent those of the ownership or management of CardPlayer.com.