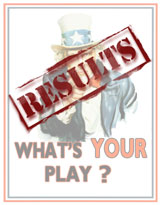 Edit: Villain 1 has me covered – think he had like 50K. Sorry I forgot to mention that important detail.
It's Day 1 of the 5000 euro Main Event of EPT Berlin. Hero (me) has recently moved to a new table and been quiet in his first few orbits. Only hand I remember playing was opening to 525 in late position and folding when Villain 1 squoze to 1650. He went on to show KK after winning it pre and then to thank the dealer for giving him good cards (he had AA the hand before). Hero starts this hand with 36K.
Villain 1 is a balding middle-aged guy of indeterminate ethnicity and nationality. My best guess is French with some Arab ancestry, but I don't have much confidence in that. He has a friendly face, not unlike Dopey from Snow White and Seven Dwarves, and so far has played tight and straight-forward. He's also wearing a Guns and Roses tour t-shirt from 2011, which seems a little out of character for him.
Villain 2 is a late-twenties white guy who hasn't said a word since I've been at the table but seems like he could be an American. Northern European would be my next guess. He handles himself confidently and, though he hasn't shown down a hand yet, he's been raising at the right times. He starts the hand with 13K.
Blinds are 100/200/25. I open to 525 with QQ UTG+1. Villain 1 makes it 1150 from the CO. Villain 2 takes his time and eventually 4-bets to 3200. As he does so, I notice that Villain 1 is watching him very intently.
OK, action is back on Hero holding QQ. What's your play?
Post your thoughts, questions, and comments here. I'll do my best to respond as they come in, and then I'll post results and my own thoughts on Friday or thereabouts.
Any views or opinions expressed in this blog are solely those of the author and do not necessarily represent those of the ownership or management of CardPlayer.com.