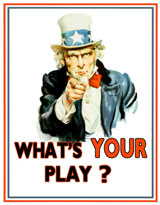 This week's What's Your Play? is a little different, in that it's the first in a series of three posts about the same hand. Rather than asking you to discuss a plan for the entire hand, I'm going to start the discussion with a flop decision. Of course you may still choose to speak broadly about how possible future action influences your flop decision, but you won't need to consider every possible turn scenario, because next week we'll find out what exactly happens on the turn and discuss that particular situation in-depth. Make sense? Here we go!
It's early on Day 5 of the WSOP main event. We're in the shallow money, with 574 players remaining out of 7319, and Hero's table draw is a great one for such a late day in the tournament, featuring several pretty weak amateurs. Hero (me, in my late twenties with dark sunglasses and no logos on my clothing) begins the hand with a slightly below average stack of 500K. Blinds are at 4K/8K/1K.
One of the weak players, a guy about my age sitting on a stack of about 450K, raises to 20K in first position. I call with 2c 2h in middle position, and a middle-aged player new to the table and sitting on 600K calls in the big blind. The three of us see a 7s 4s 2d flop, and both of my opponents check relatively quickly. What's your play and why?
Post your thoughts in the comments section below. I'll be back with my thoughts, as well as the flop action and the turn card (don't think I'm giving away too much by revealing that Hero does not fold the flop), on Friday.
Any views or opinions expressed in this blog are solely those of the author and do not necessarily represent those of the ownership or management of CardPlayer.com.